Nepal, the 'Mountain Kingdom' is a landlocked central Himalayan country in South Asia. The country's beautiful landscape attracts many international tourists. Nepal's tourism sector is the second largest contributor to its economy.
Asia and Nepal's first Casino – Casino Nepal (now known as Casino Mahjong) opened in 1968 at Kathmandu. The Casino industry in Nepal has faced a very tough period till 2016. This began with the Nepalese government shutting down all casinos in April 2014 for failing to comply with the new 'Casino Regulations 2013' and non-payment of outstanding license fees. Casinos in Nepal re-opened in September 2014, again got into trouble with the government, shut down and re-opened in early 2015. Casinos were once again hit by a devastating earthquake that rattled the country and its economy on April 25, 2015. Two casinos – Casino Anna and Casino Everest were damaged due to the quake. The earthquake in April, combined with an unofficial border blockade by India, severely affected business.
Besides, the demonetization drive by the Indian government in 2016 also affected the small electronic casinos along the border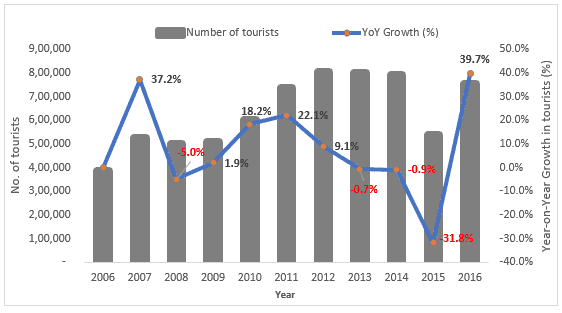 The number of tourists visiting Nepal fell by 31.8 per cent in 2015 over the previous year. This is the highest negative change in the year-on-year (yoy) growth of tourists visiting Nepal since 1964. 2015 was a tough year for the industry but it was quick to bounce back in 2016. The number of tourists visiting Nepal registered an impressive yoy growth of 39.7 per cent. As of 2019, 1.17 million tourists have visited the country.
Silver Heritage was the first group to open the Millionaire's Club & Casino under the new 'Casino Regulations 2013. The two casinos in Pokhara – Pokhara Grande and Casino Fulbari closed indefinitely after the new rule came into place.

Nepal has seven functional casinos. The newly opened Casino in Tiger Palace Resort is the largest one, run by the Silver Heritage Group, the biggest player in the casino industry in Nepal.
Why Nepal's casino industry has huge potential?
What works in favor of Nepal? A small country with a lesser GDP, a population of just 29 million, and sandwiched between two Asian superpowers – India and China.
India has a huge population of about 1.35 billion people. Indians account for the maximum number of foreign tourists visiting Nepal and on average account for about 19 percent of the total tourists. Gambling is illegal in India except in the states of Sikkim and Goa and the Union Territory of Daman. Nepal is just over an hour of travel by air from India. So, Nepal is within the reach of such a huge population of untapped potential gamblers, of which 400 million reside along the border. Also, by 2030, India will have the world's largest middle-class annual consumption of US$ 12.8 trillion. All these factors make Indians the No.1 customers for Nepalese casinos.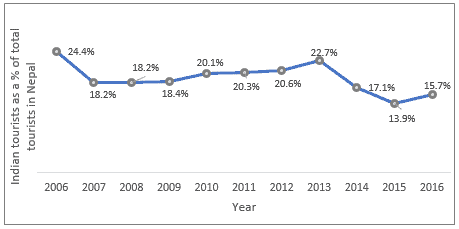 China is the world's most populous country with a population of 1.4 billion people. Gambling is illegal in China except in the administrative regions of Hong Kong and Macau. Hence, many tourists travel from China to Nepal for gambling. Overall, it takes only about two and a half hours to travel to Nepal from China. Chinese tourists form the second-highest number of foreign tourists visiting Nepal, Indians being the first. With the world's most populated country within its reach, Nepal's casinos stand to gain. Also, by 2030, China will have the world's second-largest middle-class annual consumption of US$ 10 trillion after India. Macau is now among the elite casino destinations of the world such as Las Vegas, Atlantic City, and Monte Carlo. In fact, Nepal is touted as 'the next Macau'.
Latest developments in the Casino Industry in Nepal
Silver Heritage Group, the Asian Casino operator has opened a casino inside its 100-room Tiger Palace Resort Bhairahawa on 31

st

December 2017. This is the largest casino in Nepal. The Group already operates the 'Millionaire's Club and Casino' inside the Shangri-La Hotel in Kathmandu. They have reportedly paid an 'initial casino license' fee of US$ 194,000 apart from a royalty fee of US$ 291,000. The 26,597 sq. ft. casino offers some 216 slots alongside 44 gaming tables and 100 hotel rooms. The resort targets Indian gamblers specifically as it is located at a distance of only seven miles from the Nepalese border with India. Uttar Pradesh is the adjacent state of Bhairahawa. 

The domestic airport in Bhairahawa is under upgradation to International airport and will be complete by March 2021. This is good news for visitors of Tiger Palace Resort Casino. The domestic airport in Gorakhpur is currently being upgraded. A welcome center and lounge for Tiger Casino visitors has been added.

The Silver Heritage Group is looking to develop two new Tiger Resort Properties with a combined offering of over 200 gaming tables and 1,000 electronic game machines across the border.  

The Deltin Group has launched their first International Venture Deltin Casino at the 214-room Marriott Kathmandu. 

Two new casinos could open soon, with Vegas City International and Prime International & Recreation having applied for licenses. 

Small electronic casinos operate in border towns such as Kakarvitta, Biratnagar, Birganj, and Mahendra Nagar in Eastern Nepal. Widetech (Malaysia) Berhad manages and operates four electronic gaming clubs in Nepal, along the Indo-Nepal border. CMG Clubs

 operates small electronic casinos in three hotels. CMG is Nepal's first and largest Electronic Entertainment Gaming Club. Happy Valley, the sister company of Silver Heritage also operates electronic casinos on the Indian border. Two popular electronic casinos operate at Riyaz Hotel and Dhaka Hotel at Kakarvitta. 80 percent of visitors to Kakarvitta casinos come from Siliguri.
Thus, with so many prospective clients from India and China, the casino industry in Nepal is expected to grow in the future.