Tableau and Power BI are the two leading players in the Business Intelligence (BI) and data visualization industry. Both Power BI and Tableau are very similar products. But if you look closely into your requirements, you will be able to ascertain which one suits your business better.
Power BI is a suite of analytics and data visualization tools offered by Microsoft for BI. It is also a BI platform that offers a full overview of an organization's most critical data. Power BI provides both cloud-based and desktop-based interfaces. Power BI connects to all their data sources and provides scalable dashboards by simplifying data sharing and evaluation. The key differentiator of this product are its:  easy-to-navigate dashboards, self-service interactive reports, and compelling high-quality visuals. Power BI has three versions: Desktop, Pro, and Premium.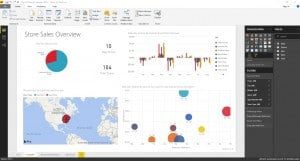 Tableau is a data visualization software application primarily used for data science and BI. The software can create a wide range of visualizations to interactively present the data and showcase insights. It also comes with real-time data analytics capabilities, cloud support, and the option to embed dashboards into existing business applications. Tableau has been the gold standard in data visualization for a long time and has mapping functionality. But Power BI is its biggest competitor at present. The various versions of Tableau are Tableau Desktop, Server, Online, Reader, and Public.  Tableau allows users to ask "what if" queries through which you can adjust data hypothetically and visualize data components.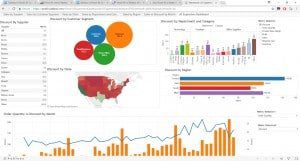 The following are the key differentiators between Tableau and Power BI:
Pricing

: Tableau is more expensive than Power BI for larger enterprises. The desktop version of Power BI is free to use. Power BI is cost-efficient. The Pro version of the Power BI cloud costs less than US$ 10 per month (cheapest in the market) whereas the Pro version of Tableau is over US$ 35 per month. This is over thrice the cost of Power BI. It is better to start off with Power BI and upgrade to Tableau when the need arises. If you are a Small and Medium Enterprise (SME) and do not know which tool to choose, Power BI is a better option for you. 

API Integration

: Power BI presents an Application Programming Interface (API), where advanced users can create their own visualization types. They can then integrate within Power BI's toolbox, as Microsoft has provided them with the base package. Power BI has an edge over Tableau given the data source connectivity of Microsoft's API and web services expertise on Azure Cloud. Microsoft's Power BI Azure support is faster than Tableau's cloud BI support.

User Interface

: Tableau has a slicker user interface while Power BI has a more intuitive interface. Power BI is easier to learn than tableau because of its simplicity and ease to use. 

Easy Integration with other Microsoft products

: Being a Microsoft Tool, Power BI fits perfectly into the Microsoft Ecosystem. Almost everyone in the world has an MS Office License and thus integrating Power BI with other MS Office products is easy. Power BI and Excel provides six additional integration points. It is a better option if you need quick access to specific analytics or intensive reporting (and have personnel who are skilled in MS-based data queries).

Connecting to other data sources

: Power BI easily connects with sources such as-

Facebook

D365

Azure Mobile Engagement,

 and many more.
This easy integration is not possible with Tableau.
Suitability and Users

: Power BI is more suitable for creating and displaying basic dashboards and reports. Hence Power BI can be used by anybody and learned easily. Power BI has more expertise with predictive modeling, reporting, and optimization when some broad back-end analytics is needed. Power BI makes a correlation between data sets. Tableau is more suitable for analysts, as it offers in-depth front-end analysis. 

Simple and clean visualization

: Power BI focuses on data manipulation and then provides simple visuals whereas Tableau simply focuses on visuals. With Power BI, users can choose from many visualizations as blueprints and then insert data from a sidebar into the visualization. The Cortana virtual personal digital assistant in Power BI lets users create visuals by asking queries with natural language. Power BI has a readymade visuals gallery filled with useful visuals created by Microsoft and the Power BI community. You can download these visuals and use them in your Power BI reports.

Pre-defined templates

: Power BI comes with ready-made templates for Marketing, HR, and Operations tools.

Product Support

: Power BI has Phone, Ticket, and Training as Product support features whereas Tableau has only Phone and Training support. 
How can ScaleupAlly help you?
ScaleupAlly, as a company can deploy Power BI in your organization and can create BI on a periodic basis. Our data management services can help you leverage data with Power BI and make data-driven decisions. We offer the following Power BI services:
BI strategy and Roadmap development

Data quality assessment and integration

Data warehouse and visualization

Implementation services
You can reach out to us here.