BI in Retail Industry: Driving Customer Success with Informed Business Decisions
In the fast-paced world of retail, staying ahead of the competition requires more than just instinct and intuition. This is where Business Intelligence (BI) steps in, revolutionizing the way retailers make decisions and interact with their customers. With the advent of technology, retailers have access to vast amounts of data that can provide valuable insights into sales trends, customer preferences, and product performance. Business Intelligence (BI) tools are the key to harnessing this data and turning it into actionable information. In this article, we'll explore how BI is reshaping the retail industry, driving customer success, and empowering retailers to make data-driven decisions that truly make a difference.
Understanding BI in the Retail Industry
Business Intelligence (BI) is a technology-driven process of collecting, analyzing, and visualizing data to provide meaningful insights that can help organizations make better business decisions. In the retail industry, BI enables retailers to gain a comprehensive understanding of their operations, customers, and market trends. By utilizing BI tools, retailers can extract valuable information from their data and use it to optimize various aspects of their business, such as inventory management, pricing strategies, and customer experience.
BI tools collect data from various sources, including sales logs, customer feedback, inventory management systems, and CRM systems. These tools then analyze the data to identify patterns, trends, and correlations that can inform decision-making. By leveraging BI, retailers can make data-driven decisions that are backed by accurate and up-to-date information, rather than relying on intuition or guesswork.
Customer benefits of business intelligence at a glance
Gain a deeper understanding of customer needs and behaviors
Improve sales training and in-store engagement
Optimize product promotions through more accurate data
Unify online and in-store shopping experiences
Merchandise stores based on shopping patterns and trends
Personalize the shopping experience for each customer
Build lasting, loyal relationships through meaningful shopping journeys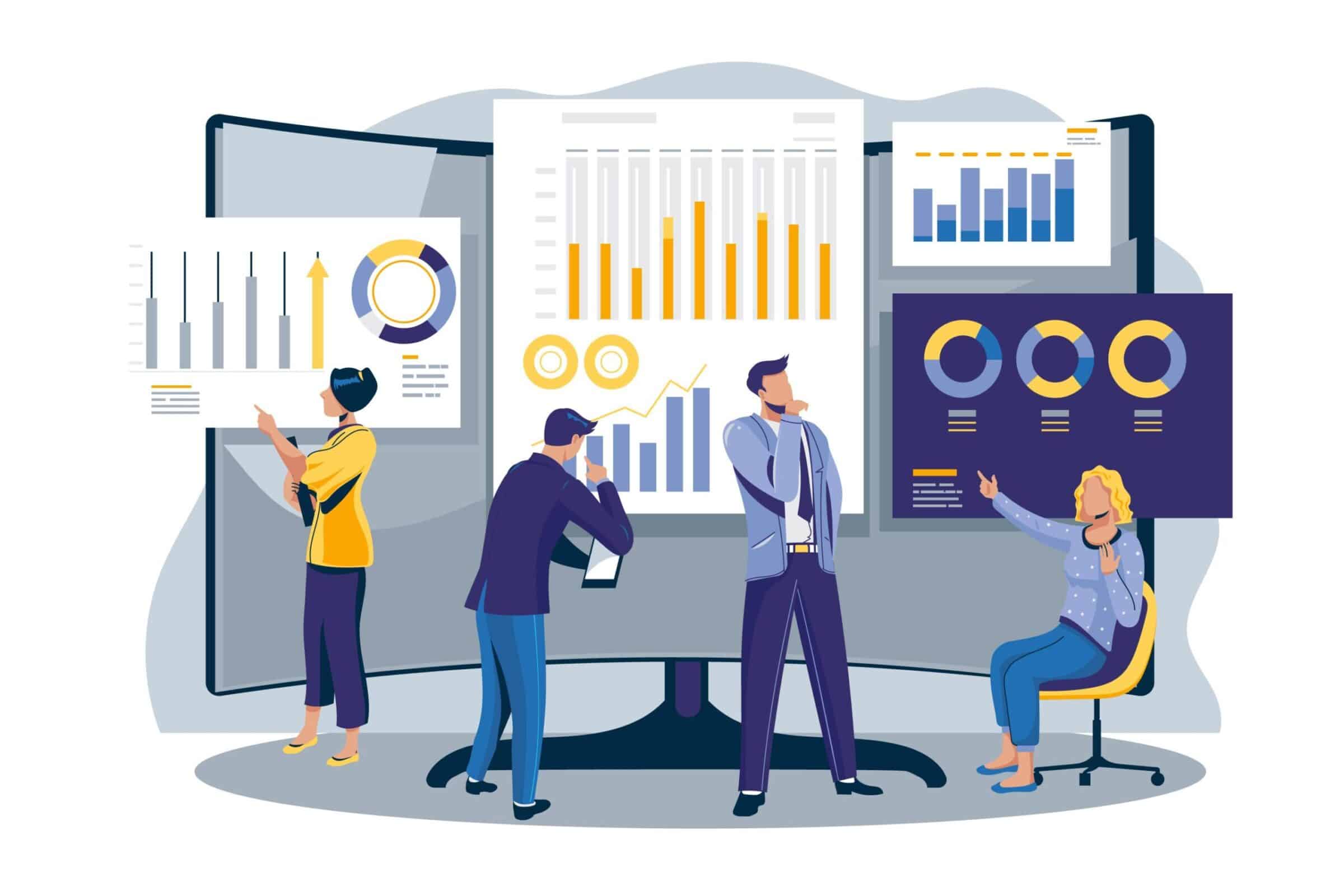 The Power of BI in the Retail Industry
Gathering and Analyzing Data for Actionable Insights
BI solutions in the retail industry enable businesses to collect and analyze data from multiple sources, including sales logs, customer feedback, inventory management systems, and CRM systems. This wealth of information provides retailers with actionable insights that were previously unavailable. By analyzing this data, retailers can gain a deeper understanding of their customers, identify trends, and make informed decisions to drive business growth.
Optimizing Inventory Management
One of the key benefits of BI in the retail industry is its ability to optimize inventory management. By analyzing sales data, retailers can identify patterns and trends in product demand, enabling them to make accurate forecasts and ensure optimal inventory levels. This prevents overstocking or understocking issues, reduces inventory costs, and improves order management and processing.
Enhancing Customer Experience
BI tools play a crucial role in enhancing the customer experience in the retail industry. By analyzing customer data, retailers can gain insights into customer behavior, preferences, and purchasing patterns. This information allows retailers to create personalized product recommendations, tailor marketing campaigns, and provide a more customized and engaging shopping experience. As a result, retailers can improve customer satisfaction, drive customer loyalty, and increase sales.
Data-Driven Pricing Strategies
Pricing is a critical factor in the retail industry, and BI tools can help retailers develop data-driven pricing strategies. By analyzing market trends, competitor pricing, and customer buying behavior, retailers can set optimal prices that maximize profitability while remaining competitive. BI tools can also provide insights into price elasticity, allowing retailers to identify opportunities for price optimization and revenue growth.
Improved Sales and Revenue
BI tools enable retailers to analyze sales data and identify sales trends, patterns, and opportunities. By understanding which products are top sellers, retailers can optimize their product assortment, allocate resources effectively, and drive revenue growth. BI tools also provide insights into customer segmentation, allowing retailers to target specific customer groups with tailored marketing campaigns and promotions, further boosting sales and revenue.
Streamlined Supply Chain Management
The retail industry relies on efficient supply chain management to ensure timely delivery of products to customers. BI tools provide real-time visibility into supply chain operations, enabling retailers to identify bottlenecks, optimize logistics, and improve overall supply chain efficiency. By analyzing data on inventory levels, production schedules, and transportation, retailers can streamline their supply chain processes and reduce costs while meeting customer expectations.
Competitive Advantage
In today's competitive retail landscape, gaining a competitive advantage is essential for survival. BI tools provide retailers with a competitive edge by enabling them to gather, analyze, and act on data faster and more effectively than their competitors. By leveraging data-driven insights, retailers can identify market opportunities, optimize operations, and deliver a superior customer experience that sets them apart from the competition.
Real-Time Reporting and Dashboards
BI tools provide retailers with real-time reporting and dashboards that enable them to monitor key performance indicators (KPIs) and track progress towards goals. Real-time reporting allows retailers to make timely decisions and respond quickly to market changes. Dashboards provide a visual representation of data, making it easier for retailers to understand and interpret complex information. By having access to real-time insights, retailers can stay agile and adapt their strategies to meet changing market conditions.
Predictive Analytics for Future Planning
BI tools often incorporate predictive analytics capabilities, enabling retailers to forecast future trends and plan accordingly. By analyzing historical data and identifying patterns, retailers can make informed predictions about customer behavior, market trends, and product demand. This allows retailers to proactively plan inventory, marketing campaigns, and pricing strategies, minimizing risks and maximizing opportunities.
Enhanced Data Security and Compliance
In the retail industry, data security and compliance are of utmost importance. BI tools offer robust security measures to protect sensitive customer and business data. With features such as data encryption, access controls, and audit trails, retailers can ensure the confidentiality, integrity, and availability of their data. Additionally, BI tools help retailers comply with data protection regulations and industry standards, mitigating the risk of data breaches and legal issues.

Realizing the Benefits of BI in the Retail Industry: Success Stories
Amazon: Personalized Product Recommendation- Amazon, a retail giant, has successfully leveraged BI to enhance its customer experience. By analyzing customer data, including browsing history, purchase history, and customer reviews, Amazon's recommendation engine generates personalized product recommendations for its customers. This level of personalization has resulted in a 29% increase in sales from personalized recommendations, demonstrating the power of BI in driving customer engagement and sales.
Walmart: Data-driven Inventory Management

Walmart, another retail powerhouse, employs BI tools to optimize inventory levels across its vast network of stores. By analyzing historical data and real-time sales, the retail giant ensures that products are available when and where customers need them, preventing stockouts and overstock situations.
Conclusion
Business Intelligence (BI) is revolutionizing the retail industry by enabling retailers to make informed business decisions based on accurate and up-to-date data. With BI tools, retailers can analyze sales trends, customer preferences, and product performance to optimize inventory management, enhance customer experience, and drive sales and revenue. BI also improves decision-making, provides a competitive advantage, and enables retailers to plan for the future with predictive analytics. By harnessing the power of BI, retailers can stay agile, adapt to changing market conditions, and thrive in today's competitive retail landscape.
Incorporating BI retail solutions into their operations, retailers can unlock the full potential of their data and gain valuable insights that drive informed decision-making. With BI, retailers can stay ahead of the competition, deliver exceptional customer experiences, and achieve retail success.
Additional Information:
Recent statistics show the growing importance of BI in the retail industry. According to a report by Statista, the global market size of big data analytics in the retail sector is expected to reach $15.3 billion by 2027, growing at a CAGR of 23.6%. This highlights the increasing adoption of BI in the retail industry and its potential for driving business success.
Furthermore, a study by Forbes reveals that 79% of retailers consider investment in analytics as a top priority. Retailers are increasingly recognizing the value of BI in optimizing various aspects of their business, from inventory management to pricing strategies. The study also highlights that retailers who invest in analytics for demand planning and inventory management can achieve a 15% increase in gross margin and a 20% reduction in out-of-stocks.
FAQs
What is Business Intelligence (BI) in retail? Business Intelligence in retail refers to the use of data analysis tools to gather insights from various retail operations, aiding in decision-making and strategy formulation.
How does BI enhance customer experiences? BI helps retailers understand customer preferences, enabling personalized shopping experiences and targeted marketing campaigns.
Can BI help with inventory management? Yes, BI optimizes inventory management by analyzing historical data and market trends, ensuring the right products are available at the right time.
What role does BI play in pricing strategies? BI enables retailers to adjust prices based on real-time data, ensuring competitiveness and maximizing profits.
Is BI only useful for large retail chains? No, BI can benefit retailers of all sizes by providing insights that enhance decision-making and customer interactions.