ScaleupAlly manufactures Innovative Solutions at scale and develop a robust product portfolio: GoodFirms
A partner to startups and industry leaders and a reliable source to build industry-changing solutions – ScaleUpAlly, emerged as a dream come into reality for the company's CEO, Manu Jain. Let's get an excerpt of his interview with GoodFirms regarding his success journey.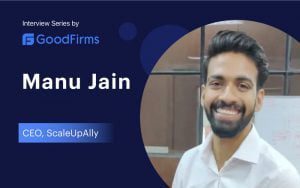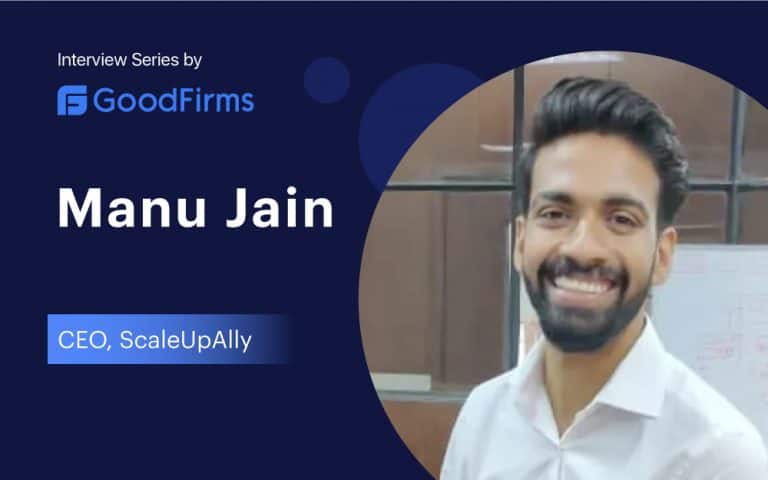 ScaleUpAlly helps develop your business idea into life. As a UP, India-based company, ScaleUpAlly  aims to  build long-lasting, dynamic teams including top talent globally.
In an interview with GoodFirms, Mr. Manu Jain, the CEO of ScaleUpAlly discussed how the company came into formation and his role as a CEO.
Mr. Jain begins the interview by mentioning that ScaleupAlly works in the field of Mobile App Development, Website Development, Business Intelligence, and Data Science. The company was established in 2017 with an intention of building a 'Dream Team' of talented professionals that helps increase a project's chances of success by 70%. The team's certified experts include Engineering Leads, QAs, Software Developers, Data Scientists, and a mix of in-house industry experts and project managers.
The idea behind the formation of the great team was to ensure speed, quality, and guaranteed fulfilment of the client projects. As the CEO, Manu Jain retains the mission and vision of the company and helps new-age companies to scale up their technological capabilities by providing on-demand access to world-class talent.
When asked about the business-model of the company, Mr. Jain asserted that ScaleUpAlly owns a variety of tech resources in the in-house team ranging from Cloud-Tech to Business Intelligence. The company also has a network of freelancers working with them as a pool of talented professionals that gives them an edge over their competitors and allows them to provide all stack of tech expertise to their clients under one roof.
The CEO differentiates the company from its competitors based on three important points:
Fixed Talent Pool of Experts
Payroll Plague, i.e. assigning multiple projects to the same developer for cost saving.
Lack of Innovation Culture, where limited access to expertise of different technologies.
Mr. Jain cleared that they are mostly into B2B business and are associated majorly with Retail, Education, E-Commerce/Marketplaces, Consulting and Gaming industries. He agrees that they have a huge base of 60% repetitive customers who have been working with them for years. Moreover, the client reference rate of the company is at least 50%.
"We are mostly approached for our Cloud, Business Intelligence, and Data Science related services," he adds.
The services in detail are as follows:
Product Strategy, Customer Development, End-to-end Ecommerce Development, and Hybrid Application Development in Cloud Division.
BI Consulting, BI Report Development, and Extended Team Support in the Business Intelligence Division.
Deep Learning, Machine Learning, and NLP in the Data Science Division.
Manu Jain happily shares that the customer satisfaction rate of ScaleUpAlly is always higher and helps them retain their customers longer. As he said, the company exceptionally caters to the needs and requirements of its customers by following a proactive approach, implementing solid strategies for effective project management, and discussing how best they can meet client requirements while remaining highly responsive and efficient.
The company always provides a good quality customer experience and always pays attention to detail for delivering the best services. It is rated almost 9.4 out of 10 in all of its services across a range of rating platforms like Clutch, UpWork, PeoplePerHour, and GoodFirms etc. The company is also soon to rank as the most promising web development company in India in GoodFirms ranking list. A review displayed below is the proof of how the customers are responded as well as treated at ScaleUpAlly.
Mr. Jain indicates that the company is strongly focused on following a proactive and process driven approach to address client issues and queries. Immense responsiveness and interactivity of the experts professionals in the company even during the time of project deployment is the proof why they get more work through referrals.
As the major clienteles of the company are startups and midcap companies, they have set the payment structure as flexible as possible. The Fixed Costs are set to the works where the project's scope is fixed. Otherwise, it is based on an hourly payment model.
Mr. Jain explains that ScaleUpAlly takes on projects that are in line with their efforts. The minimum budget they have worked on during 2021 is USD 1,000 and the maximum is USD 20,000. He concludes the interview on a positive note while talking about the future growth and development of ScaleUpAlly. As he winds it up by saying, "In the next 10 years, I see the company with a pool of more than 2000 tech experts creating an industry changing platform. We at ScaleupAlly want to develop some major industry changing solutions."
The detailed interview can be found on the ScaleUpAlly's profile page at GoodFirms.
About GoodFirms
Washington, D.C.-based GoodFirms is a maverick B2B research and reviews firm that aligns its efforts in finding web development and web design service agencies delivering unparalleled services to its clients. GoodFirms' extensive research process ranks the companies, boosts their online reputation, and helps service seekers pick the right technology partner that meets their business needs.
About the Author
Prepared by Anna Stark, a Content Writer at GoodFirms, who bridges the gap between service seekers and service providers. Anna's dominant role lingers to form every company's achievement and critical attributes into words. She strongly believes in the charm of words and equips new approaches that work, always with concepts.
7 Posts