Overview of the Club Industry in Australia
The Club Industry in Australia chiefly comprises of clubs or associations that are involved in gambling, sports, recreational and social activities. Sporting and racing clubs are in essence outside the purview of this industry. The industry covers both licensed clubs and un-licensed clubs having gambling licenses. In other words, these clubs play an important role in the Australian hospitality industry. They also act as a support group. Hence, there is a lot of competition among the gambling companies. Furthermore, regulatory constraints have reduced the revenue of these clubs.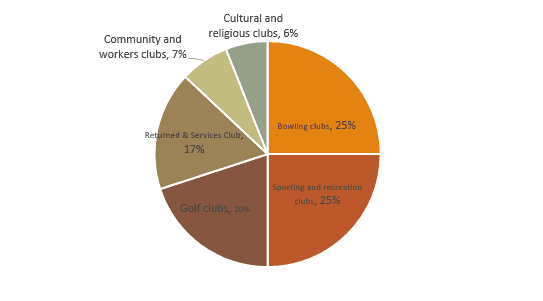 To begin with, bowling clubs, sports and recreation clubs are very popular. Furthermore, golf clubs are popular. Electronic Gaming Machines (EGMs) play a vital role especially in the Australian club industry. Revenue raised from EGMs in fact help in keeping club facilities up-to-date. Similarly, Gaming Machine tax represents the largest single form of taxation levied on the Australian club industry, excluding GST.
The New South Wales (NSW) sector of the Australian club industry is undoubtedly dominant, comprising 39 percent of all clubs. As a matter of fact, Clubs Australia is the peak industry body. It is in fact, a coalition of state and territory associations. This body represents over 6,500 licensed clubs across Australia and New Zealand. Additionally, the industry body focuses on issues such as:
Taxation

Industrial relations

Tourism

Skills & training

Alcohol policy, and 

Gambling reform
The Australian Gambling Industry
As a matter of fact, gambling comes under the category of sports & recreation in Australia. In fact, Australians are the world's most prolific gamblers. 80 percent of Australian adults indeed frequently indulge in some form of gambling. Likewise, Australia has popular forms of gambling namely:
Racing & betting
Sports betting
Lotteries
Gaming machines
Casino gaming
Keno
Football pools
Interactive gaming
Minor gaming
Pokies, and
Betting exchange
Poker machines
Slot machines and video poker consoles are in particular referred to as 'Pokies'. Besides, Australia has 20 percent of the world's 'pokies' per person. This comes to almost 200,000 indeed in total. For instance, there are over 20 full-scale casinos in Australia spread across its eight states. In addition, hundreds of small venues offer 'pokie' machines across the country. Furthermore, Australians are also big lottery-players. As a matter of fact, amongst the tourists, Chinese are most popular.
To illustrate, Victoria is the largest gambling state in Australia. It has, in fact, 18 gambling facilities, 405 table games, 2,565 gaming slots and video poker machines. Above all, Sydney is the largest gambling city in Australia. It comprises of 140 table games, 3,600 gaming and video poker machines all in all. The Star Entertainment Group is indeed the largest player in the Australian casino market. The Crown Group is the second largest player.
Casinos in Australia 
Name of the casino
Location
Description
Crown Casino Melbourne
Melbourne
●      Owned by the Crown Group, one of the big players indeed. Undoubtedly, the largest casino complex in Southern Hemisphere. It is, as a matter of fact, spread across 5.5 million sq. ft. Further, there is a gaming floor measuring 220,000 sq. ft.

●        399 table games, 50 poker tables and 2,500 gaming machines in all.

The Star Sydney
Sydney
●        Second largest casino in Australia indeed. 104,450 sq. ft. of gaming area. Operated by Star Entertainment Group.

●        140 table games, 1,490 gaming machines and 34 poker tables all in all.

Treasury Casino and Hotel
Brisbane
●        Also operated by the Star Entertainment Group. Comprises of a 67,750 sq. ft. casino.

●        Three-levels of gaming with 80 gaming tables. Over 1,600 gaming machines and eight poker tables in particular.

Jupiter's Hotel & Casino
Broadbeach
●        Previously known as The Star Gold Coast. It incidentally has 65,000 sq. ft. of gaming space.

●      As many as 70 table games, 1,600 gaming machines and 70 poker tables.

Adelaide Casino
Adelaide
●        129,000 sq. ft. gaming space in all. In fact the sole licensed casino in South Australia.

●        100 gaming tables, 1,000 gaming machines and nine poker tables all in all.

Crown Perth
Burswood
●        75,000 sq. ft. casino space, 220 tables and 17 table games. Furthermore 2,000 pokies and 14 dedicated poker tables.

●        Monopoly in Perth, Western Australia by all means.

Lasseters Hotel & Casino
Alice Springs
●        20 table games, 330 gaming machines, 13,200 sq. ft. casino in particular.

●        It has re-opened recently as Crowne Plaza Alice Springs Lasseters.

Sky City Darwin
Darwin
●        Only casino in Darwin, as a matter of fact.

●        30 table games, 750 gaming machines and 70,100 sq. ft. casino in particular.

Casino Canberra
Canberra
●        In fact, the first legal casino in Australian Capital Territory (ACT).

●        Spread across as much as 38,750 sq. ft. Comprises of a casino, 45 table games and six poker tables.
Casino games in Australia 
New South Wales
Victoria
Queensland
South Australia
Western Australia
Tasmania
Australian Capital Territory
Northern Territory
Racing and betting
Yes
Yes
Yes
Yes
Yes
Yes
Yes
Yes
Sports betting
Yes
Yes
Yes
Yes
Yes
Yes
Yes
Yes
Lotteries
Yes
Yes
Yes
Yes
Yes
Yes
Yes
Yes
Gaming Machines
Yes
Yes
Yes
Yes
In short, Casinos only
Yes
Hotels and clubs only
Yes
Casino gaming
Yes
Yes
Yes
Yes
Yes
Yes
Yes
Yes
Keno
Yes
Yes
Yes
Yes
In short, Casinos only
Yes
Yes
Yes
Football pools
Yes
Yes
Yes
Yes
Yes
Yes
Yes
Yes
Interactive gaming
Furthermore, Australian residents are not permitted to access interactive gaming sites. This is as per the Commonwealth Interactive Gambling Act 2001. This came into effect during August 2001. Interactive gaming is available only to overseas visitors in the Northern Territory.
Minor gaming
Yes
Yes
Yes
Yes
Yes
Yes
Yes
Yes
Betting exchange
In fact, betting exchange wagering is currently undertaken in Tasmania by way of a Tasmanian Gaming License. Finally, the Tasmanian Gaming Commission reports only government revenue for this product. It is for this reason recorded under interactive gaming.
As a matter of fact, there is no common gambling policy and legislation for Australia as a whole. In fact, each of the states and territories have their own gambling laws. Hence it is unclear what is legal in which state.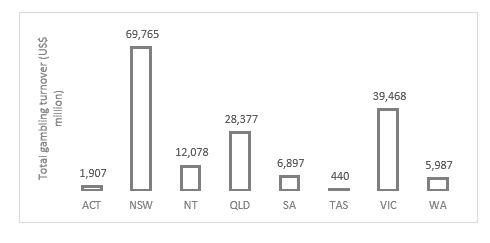 Gambling turnover
Australia actually reported a total gambling turnover of US$ 219 billion as of 2017-18 (Queensland Government Statistician's Office). Of this, in fact NSW had the maximum gambling turnover of almost US$ 92 billion (42 percent).
Challenges faced by the industry
Spending

: To begin with, Australians are the world's highest per-capita spenders in gambling. During 2017, Australians have lost significant money. This is notably an average of US$ 1,288 per person, compared to Singapore (US$ 1,174 per person) and Ireland (US$ 588 per person)

. Australia also has the world's highest number of problem gamblers. Therefore, a

 National Problem Gambling Helpline has been set up, which assists addicts 24 hours a day.

Addiction

: Secondly, Australians have a pokies obsession. For example, Australian gambling losses are the highest in the world and have hit a record high of US$ 24.9 billion. This is indeed half of what has been poured into poker machines across the country

. As mentioned earlier, pokies

accounted for maximum loss (70 percent),

followed by casinos (15 percent), racing (9 percent), and lotto (6 percent).
Social Pressure: Australians, nevertheless, sign up with local social clubs. When they visit these clubs, they end up spending money on gambling.
Upcoming developments in the industry
To illustrate, the Queensland government has announced plans to develop a Global Tourism Hub on the waterfront of Cairns city. Moreover, this complex will house six-star hotels, casinos, amongst other facilities. 

Crown Sydney is a hotel and casino recently constructed at Barangaroo in Sydney, New South Wales. It has been constructed at the cost of US$ 1.5 billion. The building has as many as 75 hotel floors at a height of 890 feet. Likewise, the building is constructed by James Packer's casino group 'Crown Resorts'. It is in fact the tallest building in Sydney.

Destination Brisbane Consortium is notably developing a US$ 2.4 billion Brisbane casino resort in Queensland. The resort will feature 1,000 hotel rooms besides 50 restaurants and new gaming facilities. The new casino from the Star Entertainment group will likewise open doors in 2022. It is furthermore expected to offer over 2,500 gaming machines, an array of table games, and poker.

Furthermore, the Adelaide Casino has got upgraded at a cost of US$ 330 million.
20 percent of the entire gambling industry's revenue is indeed coming from the online segment. To conclude, online gambling in Australia is catching up in a big way.