Industry Overview
The Philippines is indeed fast-emerging as a leading casino hub in Asia after Macau and Singapore. Gambling is legal in the country since 1976.
Gambling Industry in Philippines is booming with leading vendors in this market include PAGCOR, Travellers International Hotel Group, Alliance Global, Bloomberry Resorts, Melco Resorts, Belle Corporation and Tiger Resorts investing heavily.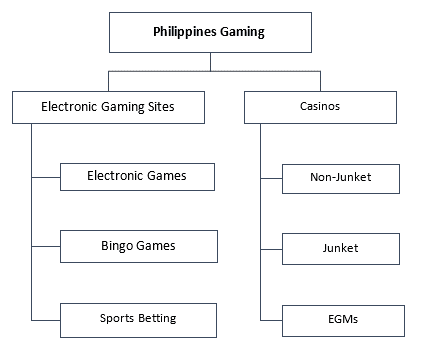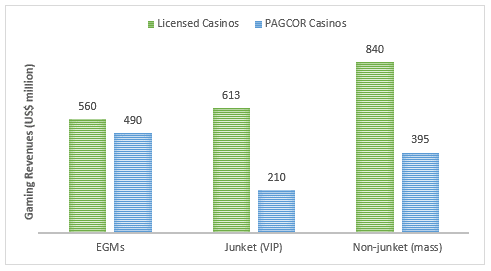 Installed Capacity of some key Philippines Casinos
| | | |
| --- | --- | --- |
| Casinos | Tables | Electronic Gaming Machines |
| PAGCOR – Casino Filipino | 526 | 10,461 |
| City of Dreams, Manila | 267 | 1,754 |
| Resorts Worldwide | 316 | 2,015 |
| Solaire Resort and Casino | 394 | 1,883 |
| Okada Manila | 87 | 911 |
| ThunderBird Binangonan | 25 | 243 |
| ThunderBird – Poro Point | 28 | 321 |
| Royce Casino | 28 | 168 |
| Windus Hotel and Casino | 39 | 166 |
| Midori Casino | 52 | 306 |
About PAGCOR
The Philippine Amusement and Gaming Corporation (PAGCOR) regulates the casino industry in the Philippines since 1976. The Philippine government owns this Corporation. In 2008, PAGCOR lost its monopoly of running its own casinos when the state government opened its gambling market to international bidders. Thus, Philippines began to compete with the likes of Las Vegas, Macau, Malaysia, Singapore, and Australia. This decision, for instance, has been highly profitable for the economy. This is because many integrated casino resorts came up in and around Manila. 
PAGCOR earns an annual gambling revenue of over US$ 1.5 billion. In fact, during 2019, the Corporation's total gambling revenues increased by 11.7 percent over the previous year. Additionally, PAGCOR casinos share 50 per cent of their gross earnings with the government. But, private integrated casino resorts share just 15 per cent of their earnings.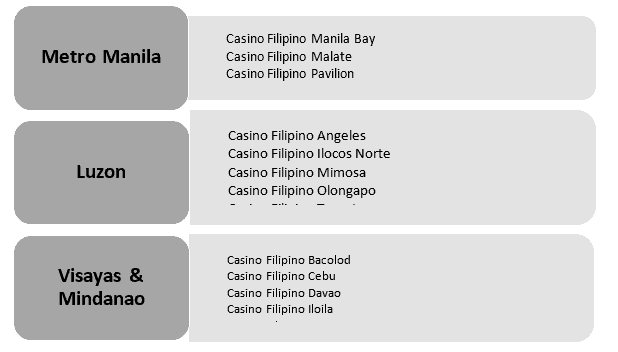 Gambling hotspots
Entertainment City (E-City) is the leading gambling hotspot in the Philippines. It is a 100-acre gambling strip that has been designed on the lines of Las Vegas and Macau. The official name of the project is Bagong Nayong Pilipino-Entertainment City. Additionally, four integrated resort projects have been approved to be set-up in E-City, of which three are operational. There are also many private gambling houses and casino joints that operate with a PAGCOR license. The advantage of E-City is that these casinos are located significantly close to the Ninoy Aquino International Airport (NAIA).
The Philippine regulatory authorities have made it mandatory for investors in E-City to spend at least US$ 1 billion on their infrastructure and facilities. They also have to follow a particular ratio of gaming tables to hotel rooms. Gross gaming revenues from E-City account for over 50 percent of the total gaming revenues in the country. Other gambling hotspots include Luzon, Newport City, Clark, Visayas & Mindanao, and Cagayan Freeport.
Key Growth drivers
The Gambling Industry in Philippines has made impressive growth since 2008. Following are the key growth drivers fueling the industry:
Growth in VIP segments

: The junket-sourced VIP segments account for one-third of the gaming revenues of private casinos. In addition, the VIP segments come mainly from proxy betting (illegal in the rest of Asia). In this, a person from outside the casino gives betting instructions to an agent inside. These gamblers do not play among the mass-market clients.

Solid Domestic Market

: The Philippines has a larger domestic market, especially in the non-junket segment. This is because its population is almost three times that of the combined population of Singapore, Malaysia, and Macau.

Opening up of PAGCOR

: Significantly, the Philippine gambling market was open to the world in 2008 when PAGCOR lost its monopoly to run its own casinos.

Dominant foreign gamblers

: The Koreans and Chinese form the majority of foreign gamblers in the Philippines.

Exemption of Philippine from AML till 2017

: In August 2017, casinos and junket operators were added under the watch of the Anti-Money Laundering Council (AMLC). Till this time, Philippine casinos were a great place to launder money. This advantage ultimately brought a lot of gamblers to the country.
Key Concerns for the industry
Inclusion of casinos to AMLC

: Casino cash transactions in excess of US$ 97,000 have to be reported to the AMLC from July 2017, onwards. Casinos also need to report any suspicious transactions.

Gambler identification

: The new AMLC rules require the identification of the customer, the intermediary, and the entity on whose behalf the transaction is being made.

Oversupply and fierce competition

: Furthermore, the Philippine casino market is on the verge of facing extreme competition among the four major players, other key players, and new entrants. Eventually fierce competition impacts profitability.

Attack

: A deadly attack on Resorts World Manila on June 2, 2017, killed 36 guests and got extensive worldwide attention. This incident has brought a negative image to the otherwise booming industry.
Upcoming developments in the industry
Westside City Resorts World is a township coming up in E-City, spread across 31 hectares and 1,500 hotel rooms. The US$ 1.1 billion project will become the fourth casino resort in E-City and the fifth casino-resort in the Philippines. The project was previously known as Resorts World Bayshore and is owned by Travelers International Hotel Group which also operates Resorts World Manila. This project will include 400 gaming tables with 1,200 slot machines across both VIP and mass gaming, due to open in 4Q22.

Travelers International Hotel Group and Hotel Okura Co. Ltd, Japan have entered into an agreement to open a new 11-story hotel in Resorts World Manila.

Universal Entertainment Corporation will premier its new beach-themed Cove Manila attraction outside Okada Manila resort. This 'all-weather dome' will feature a nightclub, and a beach club, besides, space for some 5,000 guests.

Waterfront Philippines Inc. intends to spend about US$ 32.5 million to upgrade its four properties. 

Bloomberry Resorts Corporation is developing its second hotel and casino named Solaire North in Quezon City. It is expected to be completed by 2022.

PAGCOR is planning to sell 17 of its casinos, the first round of disposals due to begun this year. 
The Gambling Industry in Philippines is at a mature phase currently because of growing supply and intense competition. Therefore, looking at the current trend, the Philippine gambling industry will likely get oversaturated, with four major players competing fiercely and more to come.