How to measure your Business Success with Microsoft Power BI: A Power BI Business Consulting Guide
Importance of Business Intelligence
Almost every small, mid-sized and large business can benefit from Business Intelligence (BI). BI can help businesses in decision-making, ranging from operational to strategic. BI helps a company to boost its productivity, gain marketing intelligence, determine Return on Investment (RoI). It also creates an effective business model, understanding customer behavior, turn data into actionable insights, and in brand building. BI has several related activities such as data mining, analytical processing, querying, and reporting.
BI tools are a type of application software that assimilate and process large amounts of unstructured data. These tools present data in a structured manner for analysis to help the creation of reports, dashboards, and data visuals. Thus, employees and managers can improve decision making, increase operational efficiency, pinpoint revenue potentials, identify market trends, and report KPIs. Types of BI applications include
Spreadsheets

Reporting and querying software

Digital dashboards

Data mining

Online analytical processing (OLAP),

Business activity monitoring, data warehouse,

Local information systems, and

Data cleansing
Microsoft Power BI is one of the leading and self-service BI tools available in the market today. You can provide updated data, insights, high-quality visuals with graphs, charts, 3D maps, and dashboards with Power BI. The Total Cost of Ownership is less as compared to traditional BI. Also, Power BI users need not have high technical knowledge to use them. Within a short span of its launch in July 2015, Power BI has indeed taken the top slot in Gartner's Magic Quadrant for BI
KPIs typically fall into the following broad categories:
Project Management KPIs such as Cycle time, Actual cost of work done, Percentage of milestones missed, Estimate at completion, Cost of managing processes, Deviation of net present value, Number of milestones achieved, etc.

Financial KPIs such as EBITDA, RoI, Debt-Equity Ratio, Operating Margin, Return on Equity, Operating cash flow, etc.

Human Resource Performance KPIs such as Revenue per employee, Employee Satisfaction index, Salary Competitiveness ratio, Human Capital RoI, etc.

Supply Chain and Operational Performance KPIs such as Order Fulfilment Cycle time, Yield, Supply Variability, Throughput and Earned Value, etc.

Consumer insights and marketing KPIs such as Market growth rate, Customer satisfaction index, Social networking performance, Customer lifetime value, customer acquisition cost, etc.
Steps to create KPIs in Power BI
Apart from Revenues & Profits these, businesses also have other KPIs that they track. A few of the KPIs that businesses track includes Financial KPIs, Operational Costs, Marketing RoI, amongst others. 
A KPI is a visual cue, a measurement of your performance against key business objectives. It indicates one's progress against the measurable goal. A visual in KPI requires a base measure that evaluates to a value and a target measure or value, and a threshold or goal. KPIs help to measure progress and measure the distance to a goal.
As a matter of fact, you may be having your important KPIs spread across multiple applications. Power BI brings this data together into one platform so that you have organization-wide metrics in one place.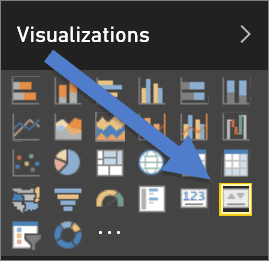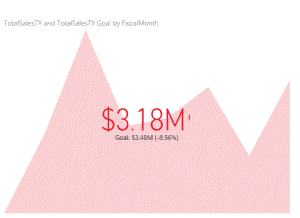 A few formatting options in KPIs that are important:
Indicator

– Controls the indicator's display units and decimal places

Trend Axis

– When the KPI is set to On, the trend axis is displayed as the background of the KPI visual

Goals

– When the KPI is set to On, the visual displays the goal and distance from the goal as a percentage

Color Coding > Direction

: There are some KPIs that are considered better for higher values and some are better for lower values. A higher value of earnings is better than a higher value of wait time
The Power BI KPI Matrix integrates Balanced Scorecards in Power BI and displays a lot of metrics and KPIs in a single, customized list. Balanced scorecards display different types of metrics. Thye also display non-additive KPIs such as financial, operational, and customer-focussed measures, as rows in a single list. The tabular format of Power BI KPI Matrix allows for an unlimited number of metrics and KPIs in one list. Some of the key features of Power BI KPI Matrix are as follows:
Pivot Output Metrics pivot the table and display each metric as a row or column.
Custom Sparklines show the available trends of actual values.
Expandable Categories that show or hide groups of metrics by using Category features.
End-users can navigate to drill down reports or related content as individual hyperlinks may be tied to metric names or categories.
KPI Indicators such as symbols that define thresholds for colors and symbols and use the same colors for the KPI indicator value and sparklines.
Mapping of individual metrics to the desired actual, target, and variance cells; columns as rows starting with columnar data table, built with different metrics in various columns.
You can easily change the row heights and column widths by clicking and dragging the row/column borders, like MS Excel.
Granular control of Colours, Fonts, and Formats.
You can choose from a selection of pre-settable themes, including alternate row shading.
Visuals show current values and the status of KPIs. Users can interact with past dates by including a separate date slicer.
You can click on any non-hyperlinked cell and launch a Power KPI chart showing full trend details.
How ScaleupAlly can help you?
Power BI helps keep track of important business KPIs and triggers information if things are not performing well. This helps businesses make data-driven decisions rather than gut-based and be pro-active in approach.
You can use the dashboards in the Power BI for free with both internal and external audiences. This feature is suitable for consultants. Consultants can directly email the Power BI dashboard link, who just log onto their Power BI account to view the shared content. The recipients can log into Power BI using a dashboard link emailed directly to them.
We, at ScaleupAlly, can create customized and visually appealing dashboards to suit your business requirements. To avail our services, you can log onto our website or send us an email here.