Power BI is a suite of analytics and data visualization tools specifically offered by Microsoft for Business Intelligence (BI). The key differentiators of this product are namely its easy-to-navigate dashboards, self-service interactive reports and compelling high-quality visuals. 
It must be remembered that implementing an inventory management technique by using Power BI can be done easily. Another key point is you simply have to install Power BI, import all your data into the suite, and get stunning analytical visuals. Given below are some well-known data sources:
Excel workbook (CSVs, XMLs), JSON files and SharePoint

Databases – SQL Server, MS Access, Oracle, IBM DB2, Sybase IQ, PostgreSQL, Teradata, SAP Hana and Analysis Services

Microsoft Azure (Database, Data Warehouse, Blob Storage, Table Storage, and Data Lake Store)

Online Service – SharePoint Online List, Microsoft Exchange Online, Microsoft Dynamics 365, Facebook, and Salesforce

Other sources – Excel Range, Table, Web page, Microsoft Query, OData Feed, Hadoop Distributed File System, Microsoft Exchange Server, Active Directory, ODBC source, OLEDB source, and Blank Query.
A Power BI report can indeed be a single visual or multiple visuals on a single page.
Power BI for retail store can be a game changer.
The retail business is in fact driven by consumer behavior overall. BI is generally required to analyze this and predict customer requirements. Power BI generates customer analytics that can be used by your retail store particularly to understand your business. For instance: which Stock Keeping Units (SKUs) are moving fast, and which products would be in demand in the future. From an inventory perspective, particularly Power BI presents a data set that shows the relationship between orders, stock control, and sales for any given month. 
To demonstrate, a list of few metrics analyzed by Power BI are given below:
Sales metrics

: With Power BI, you can specifically get an analysis of total sales and sales quantity category/sub-category wise over a period of time. 

Variance analysis

: Moreover, you can get weekly, monthly, and yearly sales variance analysis. 

Vendor lead time

: To point out, you can compare the lead time from different suppliers under a product category/sub-category. For example: metrics such as Average Lead Time, Average Stock per Product Category, and a tree-map visualization of all KPIs.

Inventory analysis

: In addition, you can view stock on hand and get metrics such as Economic Order Quantity, Danger Level, and Re-order level.

Inventory turnover

: Above all, by looking at the Power BI output, you can classify the movement of your products and monitor the Inventory Turnover Ratio.
You may like to read: Power BI for Inventory Management
Illustration
For example: The availability and actual sales of a few product categories are given below.
Table 1: Availability (no. of units) and Actual Sales (no. of units)
| | | |
| --- | --- | --- |
| Item Name | Availability (units) | Sales (units) |
| Touring Bikes | 25 | 10 |
| Mountain Bikes | 20 | 18 |
| Road Bikes | 22 | 21 |
| Tyres and Tubes | 18 | 15 |
| Jerseys | 25 | 15 |
| Bottles | 24 | 20 |
| Gloves | 22 | 10 |
| Helmets | 40 | 30 |
The figure below shows the output for the above data in the form of a line graph on Power BI desktop interface.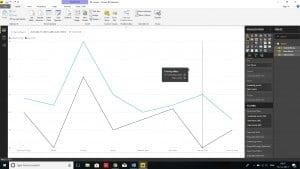 For instance, the figure shows how Power BI gives various analysis output options on the dashboard such as graphs/charts/diagrams/slicers/tables/standalone images/treemaps etc. Besides, you can choose to view your output in any form you like.
Power BI for retail store, here's how we can help?
In fact, Power BI is one of the best analytical tools available in the market today to reduce inventory problems in your retail store. This is because it has a plethora of output options and visuals. ScaleupAlly can indeed help you by analyzing your store data using Power BI and ensure that you never face inventory problems.
Without a doubt, inventory dashboards created by us using Power BI are stunning and visually rich. They have high levels of security, governance and further seamlessly integrate with applications. Additionally, they can support advanced data analysis, and require no technical knowledge to use. Besides, all this comes at a fraction of cost you will currently be spending on other BI tools. 
To sum up, you can get such powerful dashboards at competitive costs by engaging us for your digital marketing efforts. Drop us an email here.