About Us
ScaleupAlly helps small and medium businesses make data-driven decisions. We embed analytics into the fabric of our clients' business. Hence, we create new intelligence and unlock trapped value. Through such customized solutions, we drive phenomenal business growth.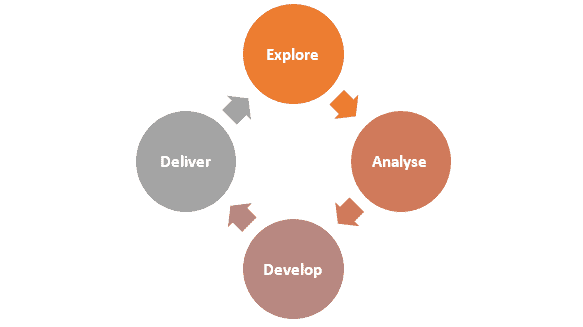 Why Us?
On-time delivery – We are serious about our deadlines.
Error-free delivery – Rest assured, we ensure the quality of work and error-free delivery.
Surety of Service

– No advance payment structure. Additionally, we have a full money-back guarantee.
Services Offered
Excel Consulting – Develop insights based on data that complement business goals.
Access Consulting – Leverage MS Access technology to manage and present large volumes of data.
Data Visualization – Business Intelligence (BI) in some stunning visuals that help in quick and efficient decision making.
Data Warehousing – Warehousing historical and current data, in a manner that is both easily accessible and understandable.
Training – Training in Analytics that puts your business ahead of the curve.
We excel at the following technologies:
MS Excel
MS Access
Tableau
Power BI
Google Analytics
SQL Server
Phocas
Qlik View
R Analytics
SAS
Scaleupally and Digital Marketing
Digital marketing refers to advertising through digital channels such as websites, search engines, social media, e-mails and mobile applications. Microsoft's Power BI collects BI and analytics information. This allows organizations to thus gain valuable insights from important data and make better decisions for their customers and industry. Power BI also turns digital marketing data into compelling dashboards and reports within a few minutes. 
Your company can achieve the following benefits by using Power BI for your digital marketing efforts:
Availability of data across departments

Data visualization, that is view reports or dashboard metrics with charts, graphs, or maps

Better capabilities for updating current manual sources and automated data sources

Retention of data saved on the cloud and not confined to user systems
Power BI is the perfect data visualization tool for marketers. ScaleupAlly, our Power BI Consulting Company, can help you make reports and dashboards in Power BI. The reports can help you:
Maximize your marketing RoI

Assess the performance of your digital marketing plan

Help you come up with better strategies
Case Study
BBJ&K is a media planning company, based in the UK. Wonga is a client of BBJ&K. Wonga is a British payday loan company offering short-term credit at a high cost of capital. The firm operates in the UK, South Africa, Spain, Germany, and Poland. It provides three products – three months Flexi loan (FL3), six months Flexi loan (FL6), and a short-term loan (STL). 
Description
BBJ&K has been in-charge of Wonga's digital marketing efforts. The company has created Google and Display advertisements to promote the above three products of Wonga. Wonga has a daily expenditure model where Metrics such as Click Through Rate (CTR), Cost Per Click (CPC), Pay Per Click (PPC), Cost Per Impression (CPM), Cost Per Application (CPApp), and Cost Per Loan (CPLoan) are monitored. We track Metrics such as the number of applications received, and the number of loans granted. Loan application refers to the interest shown by a customer in applying for a loan. The number of loans refers to the number of successful loans dispersed.  All these measures are successfully tracked daily using customized Power BI dashboards created and maintained by ScaleupAlly. Given below are the screenshots of the dashboards.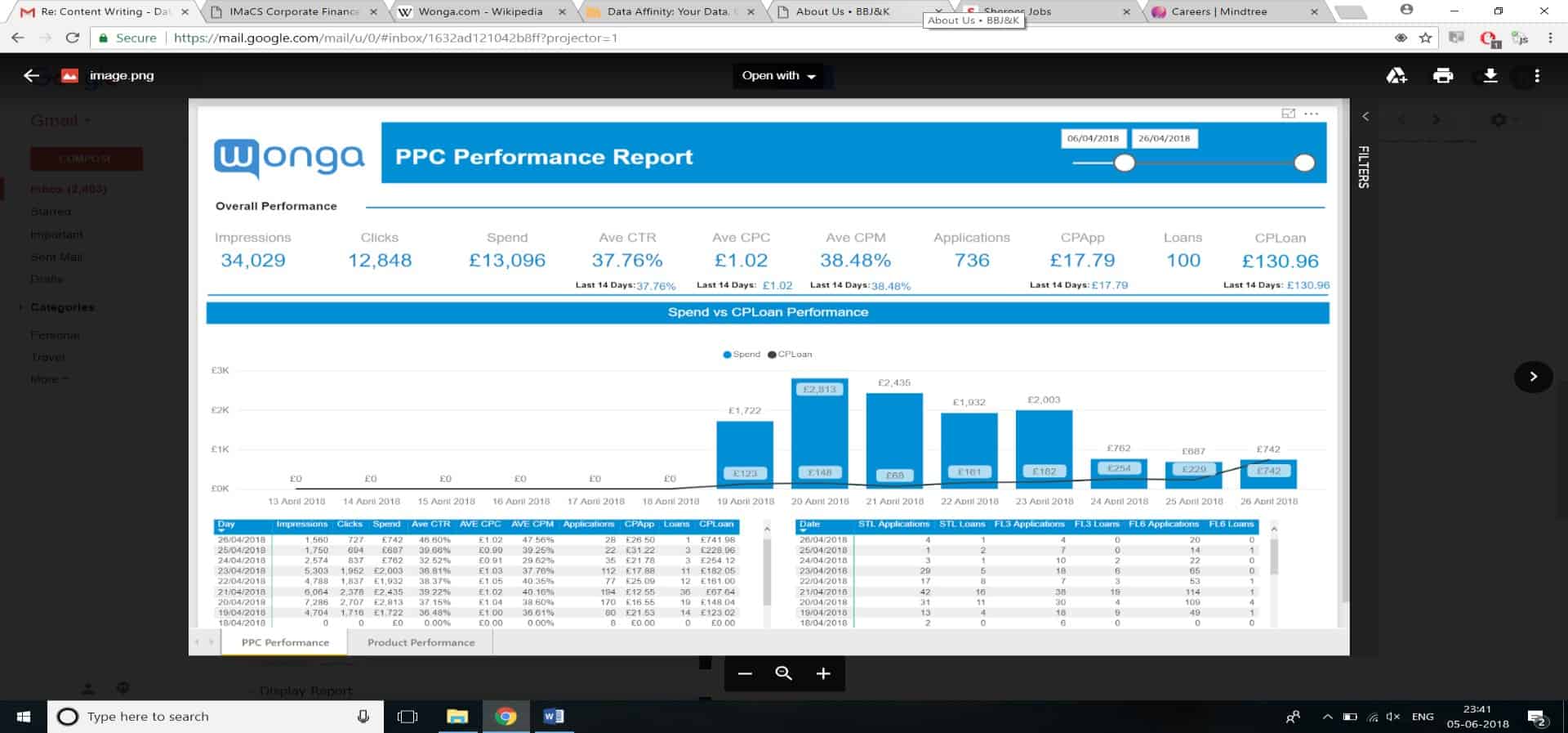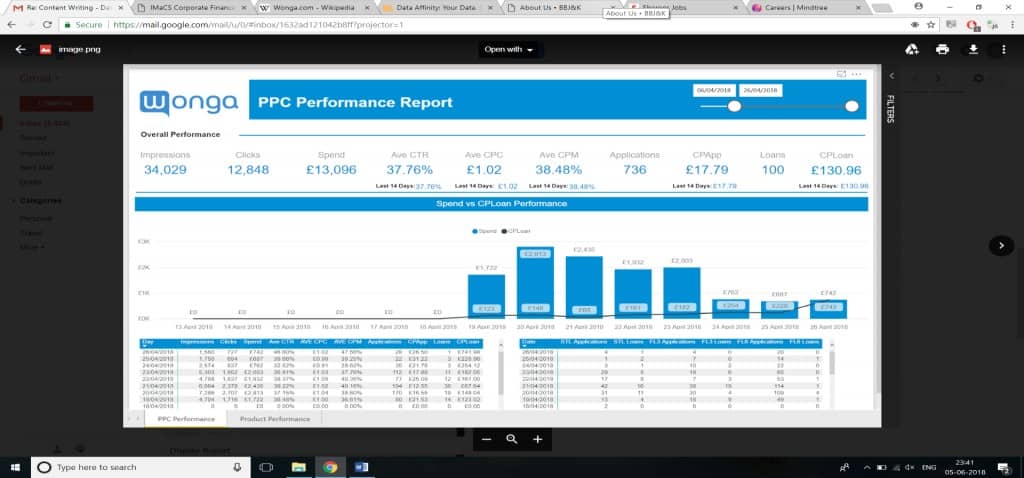 PPC Performance Report 
The screenshot above is a PPC Performance Report of Wonga between 6th April, 2018 and 26th April, 2018. PPC is an online advertising model in which advertisers pay a fee every time their advertisement is clicked. Number of Impressions refers to the number of advertisement views. During this time period, the total number of impressions was 34,029, total number of clicks were 12,848 and total spend is £13,096. CTR is a percentage of the number of clicks received by Wonga advertisements on the total number of impressions. In this case, CTR is 12,848 on 34,029 which is 37.76%.
CPC refers to the actual cost for each click in Wonga's PPC marketing campaign. It is calculated by dividing the total cost of clicks by the total number of actual clicks. In this case, it is £13,096 on 12,848 which is £1.02. 
CPM Is the cost per 1,000 impressions. Here CPM is a percentage of total spend on total number of impressions, which is £13,096 on 34,029 which is 38.48%. So, Wonga has received 736 applications because of all the digital marketing efforts of BBJ&K.
CPApp is the total cost of one application and is calculated by dividing the total spend by the number of applications. In this case, CPApp is 13,096 on 736 which is £17.79 per application. Out of 736 applications, Wonga has sanctioned 100 loans. Thus, the CPLoan is a percentage of total spend on total number of loans sanctioned. In this case, it is £13,096 divided by 100 which is £130.96.  Also, it can also be observed that the spend has been highest on 20th April, 2018 at £2,813.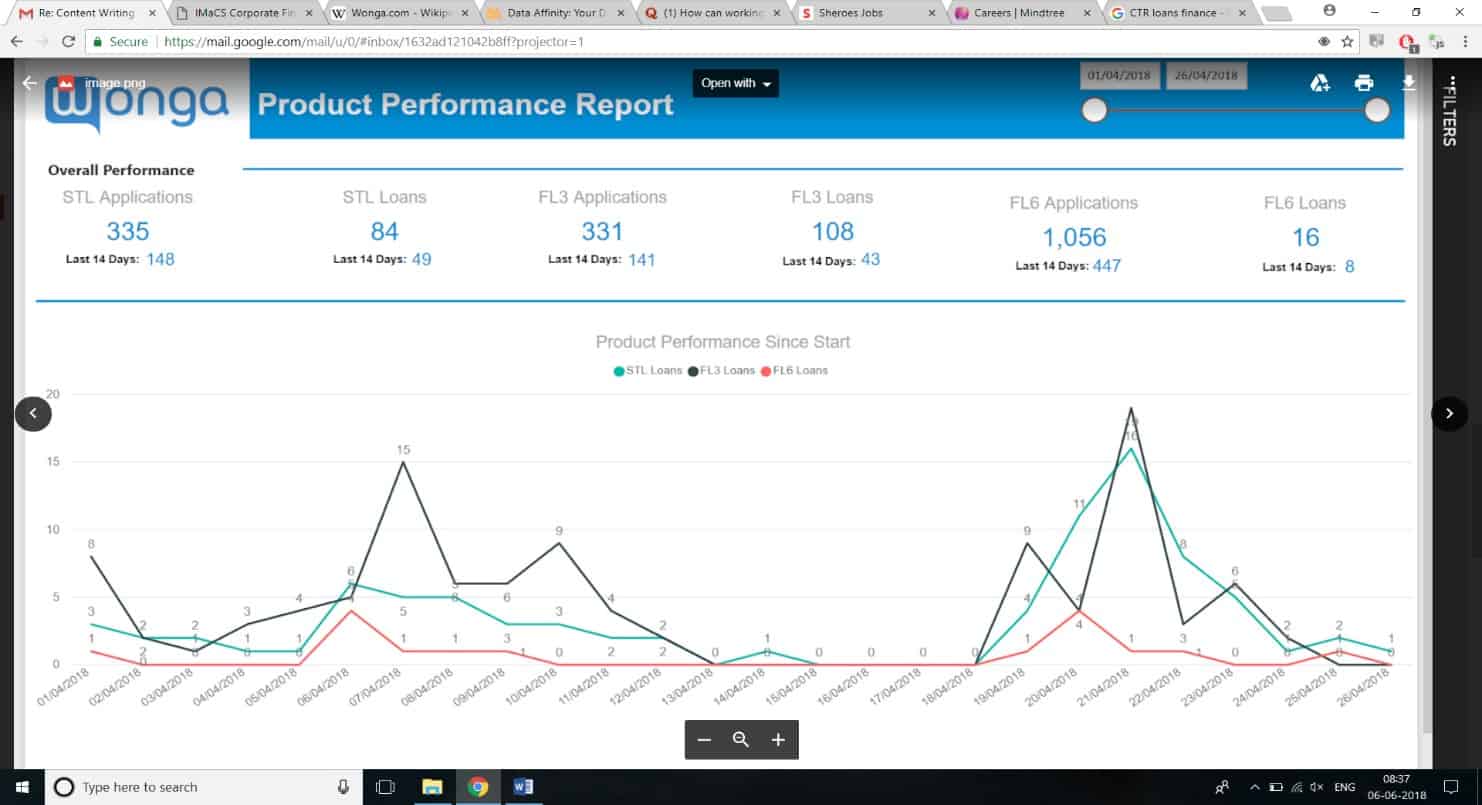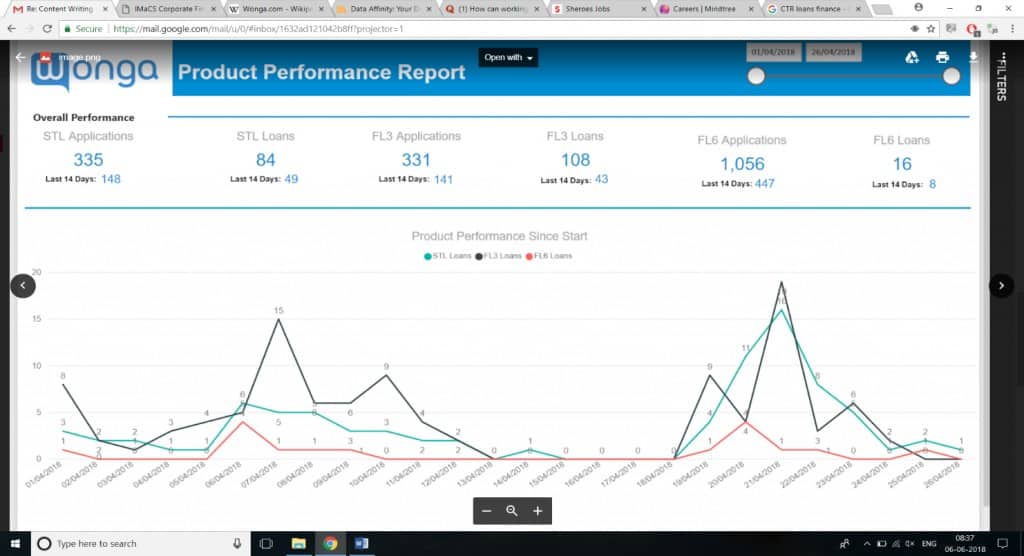 The Dashboard
The above screenshot is the dashboard tracking a total number of Wonga's STLs, FL3, and FL6 applications from 1st April 2018 to 26th April 2018.  STLs are loans for less than a three-month time horizon. FL3 are three-month loans. FL6 are six-month loans. Wonga has received 335 STL applications, 331 FL3 applications, and 1,056 FL6 applications during this period. Thus there is are a total of 1,722 applications across all three categories. Of this, Wonga has sanctioned, 84 STLs, 108 FL3 loans, and 16 FL6 loans totaling 208 loans. The conversion rate for STL loans is 25.07%, 32.63% for FL3 loans and 1.52% for FL6 loans. Thus, we can see that the conversion rate of FL3 loans are the highest in this marketing effort of BBJ&K for Wonga.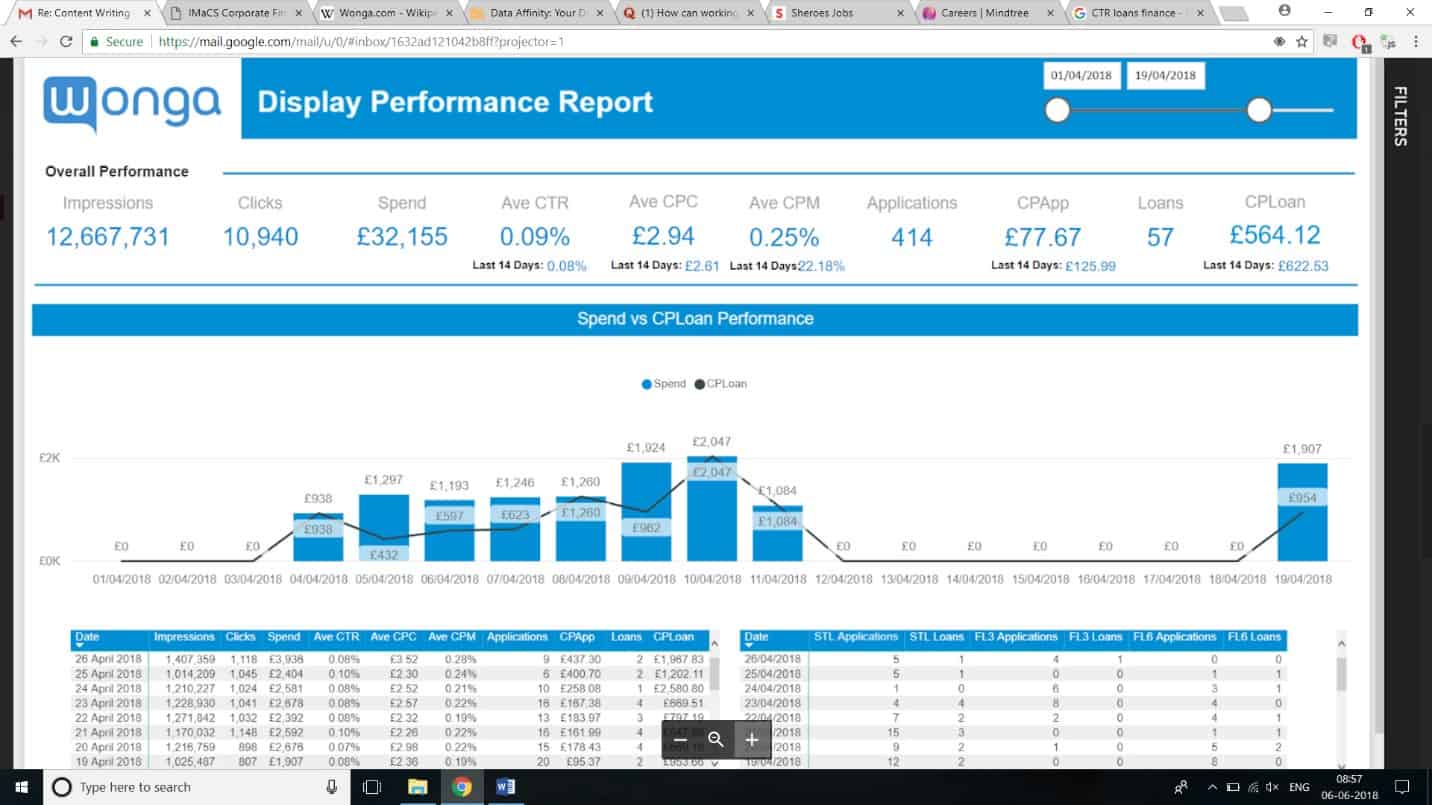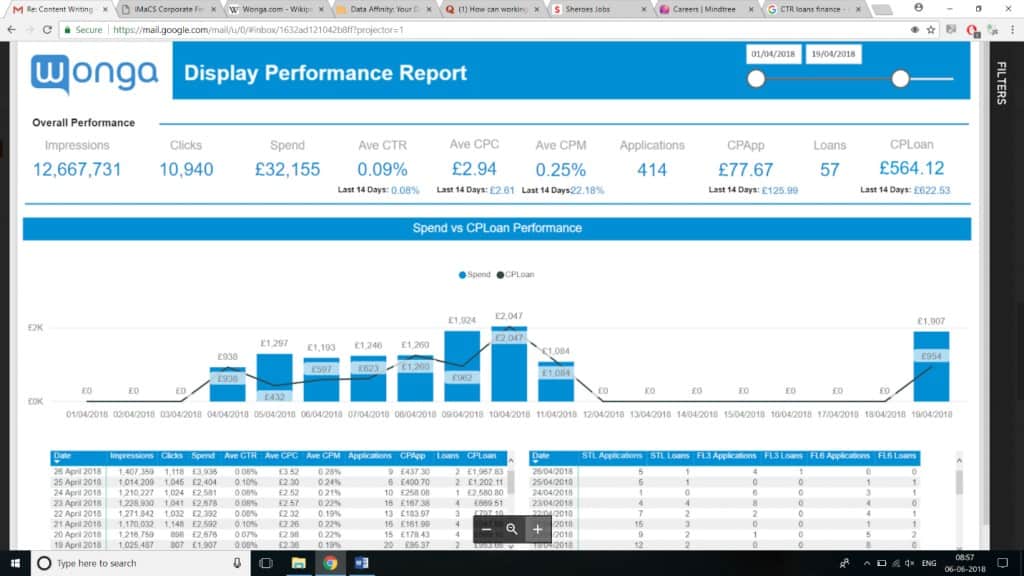 This is the screenshot of Wonga's performance of television advertisements between 1st April 2018 and 19th April 2018. The total number of Impressions during this time period has crossed 12.6 million, the total number of clicks was 10,940 and the total spend was £32,155. In this case, CTR is 10,940 on 12,667,731 which is 0.09%. CPC is £32,155 on 10,940 which is £2.94. CPM is £32,155 on 12,667,731 which is 0.25%. So, Wonga has received 414 applications because of all this digital marketing effort of BBJ&K. In this case, CPApp is £32,155 on 414, which is £77.67 per application. Out of 414 applications, Wonga has sanctioned 57 loans. Thus, the CPLoan, in this case, is £32,155 divided by 57 which is £564.12.  It can also be observed that the spend has been highest on 10th April 2018 at £2,047.
How ScaleupAlly can help?
Our team at ScaleupAlly can strategically plan, discuss, and develop visually stunning data-driven dashboards for your digital marketing efforts. As Power BI consultants, we are indeed skilled at using Power Query and DAX language to query data sources, sort, upload, and analyze the data and build reports with rich visuals. We offer services such as:-
Planning and configuring Power BI

Integrating data sources with Power BI

Preparing data to load into Power BI

Create measurables and columns for smaller datasets

Develop role-based customized dashboards

Training and post-implementation support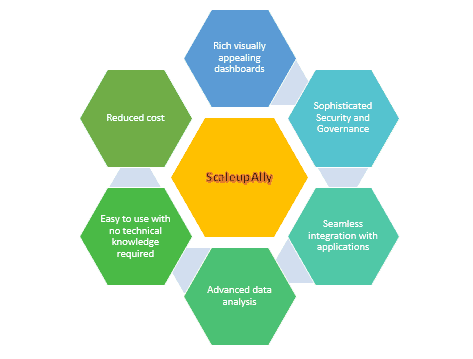 Dashboards created by us using Power BI are:
Stunning and visually rich

Have high levels of security and governance

Seamlessly integrate with applications

Support advanced data analysis

Require no technical knowledge to use
Additionally, all this comes at a fraction of the cost you will currently be spending on other BI tools. 
You can also get such powerful dashboards at competitive costs by engaging us. Drop us an email here.