Nurturing Talent: A Recruitment Analytics Case Study for Guided Solutions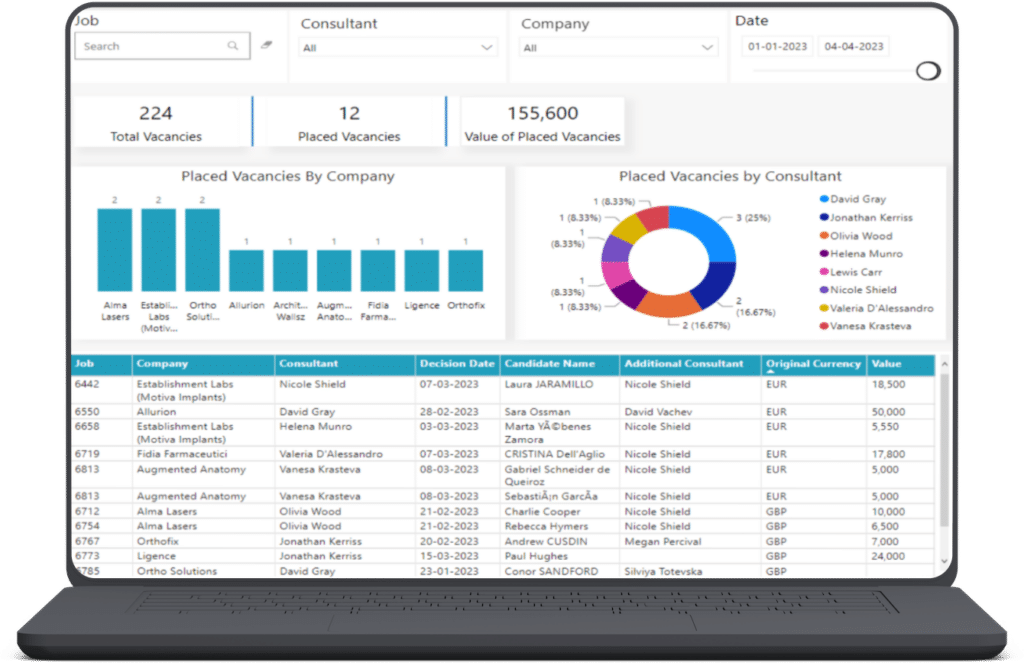 Guided Solutions, a distinguished executive recruitment firm based in the United Kingdom, specializes in serving the food, beverage, and agribusiness sectors. With a commitment to providing customized recruitment solutions, Guided Solutions leverages their industry expertise and extensive networks to identify exceptional talent that aligns seamlessly with their clients' requirements and organizational culture.
Performance Analysis: Gain comprehensive insights into consultant performance to assess and optimize their recruitment strategies.

Candidate Tracking: Monitor the progression of registered candidates to placed candidates on a monthly and yearly basis.

Data Integration: Centralize and consolidate data from Bullhorn, their recruitment software, and create actionable insights for better decision-making.
Data Sources: Bullhorn, their primary data repository for candidate and consultant information, and AWS SQL, a cloud-based database for data consolidation.

Technology Stack: Power BI was chosen as the reporting tool to connect to AWS SQL and create data-rich dashboards.
Data Collection and Integration
Data collection and integration played a critical role in Guided Solutions' recruitment analytics project:
Data Sources: The primary data sources for this project were Bullhorn and AWS SQL.

Bullhorn: Bullhorn served as the central repository for all candidate and consultant-related data, including details, job postings, placement records, and more. Data from Bullhorn was essential for tracking and analyzing recruitment activities.
AWS SQL: AWS SQL, a cloud-based relational database service, was used for centralizing and consolidating data from Bullhorn. This cloud database played a pivotal role in the integration process, ensuring that data from multiple sources could be combined into a unified dataset for analysis.

Data Integration Process: Guided Solutions implemented a comprehensive data integration process:

Data Extraction: Relevant recruitment data was extracted from Bullhorn. This extraction involved retrieving candidate and consultant details, job postings, placement records, and other essential information.
Data Transformation: Extracted data underwent transformation to meet reporting and analysis requirements. This step included data cleansing, normalization, and the creation of calculated fields or metrics to enhance data accuracy and completeness.
Data Loading: The transformed data was loaded into AWS SQL, where it was stored in an organized and structured manner. AWS SQL served as the central repository for the consolidated recruitment data, providing a unified view for analysis.
Key Performance Indicators (KPIs)
Consultant Performance Metrics:

Placements: The number of successful placements made by consultants.
Client Satisfaction: Feedback and satisfaction ratings from clients regarding the recruitment process.
Revenue Generation: Revenue generated through successful placements and client engagements.

Candidate Progression Metrics:

Transition from Registered Candidates to Placed Candidates: Tracking the journey of candidates from initial registration with Guided Solutions to successful placement in positions.
BI Tools and Technologies
Power BI: Power BI is a leading data visualization and business intelligence tool developed by Microsoft. Guided Solutions chose Power BI as their primary reporting tool due to its robust capabilities in creating interactive and visually appealing dashboards and reports. Power BI seamlessly connected to their data source, AWS SQL, allowing for direct querying and real-time data updates. With Power BI, Guided Solutions could transform complex recruitment data into visually accessible insights, facilitating data-driven decision-making.
Data Analysis and Insights
Data Extraction and Integration: Data was extracted from Bullhorn and consolidated in AWS SQL to ensure data accuracy and provide a unified view.

Power BI Reports: Interactive dashboards and reports were thoughtfully designed within Power BI, allowing users to explore data, identify trends, and gain actionable insights.

Consultant Performance Analysis: Tracking consultant metrics enabled Guided Solutions to assess and optimize recruitment strategies, identify top-performing consultants, and align their efforts with client needs.

Candidate Progression: Monitoring the transition of candidates from registration to placement provided insights into the effectiveness of their recruitment processes and allowed for targeted improvements.
Challenges and Solutions:
Data Integration: Consolidating data from Bullhorn required careful data extraction, transformation, and loading processes to ensure data completeness and accuracy.

Data Security: Stringent data security measures were implemented to protect sensitive candidate and client information.

Customization: Power BI reports were tailored to align with Guided Solutions' specific recruitment metrics and objectives.
Guided Solutions effectively harnessed the power of data analytics and visualization to enhance their recruitment operations. By consolidating data from Bullhorn into AWS SQL and utilizing Power BI for reporting, they streamlined their data analysis process.
The interactive dashboards provided comprehensive insights into consultant performance, candidate progression, and other vital recruitment metrics. This data analytics project exemplifies the importance of data-driven decision-making in optimizing executive recruitment strategies and ensuring exceptional talent acquisition for clients in the competitive food, beverage, and agribusiness sectors.
Scaleupally's BI services have empowered our HR department to make data-driven decisions that enhance employee satisfaction and retention. We now have a deeper understanding of our workforce, allowing us to implement targeted HR strategies. Scaleupally has had a significant impact on our company culture.